On 28 September 1972, Peter Gabriel appeared onstage during 'The Musical Box' with the foxes' head and the red dress from the Foxtrot album cover.
In 1971, Genesis released Nursery Cryme and established themselves as a 'prog rock' band with fantastical lyrics and odd time signatures. They became a little cult band with singer Peter Gabriel often facing the problem of not knowing how to deliver their music and lyrics to the audiences. Before Peter Gabriel 'started dressing up in all manner of things'1, as Steve Hackett calls it, he had already worn make-up onstage and also, he had shaved the top of his head. But by September 1972, a month before the release of their next album Foxtrot, he had a groundbreaking idea.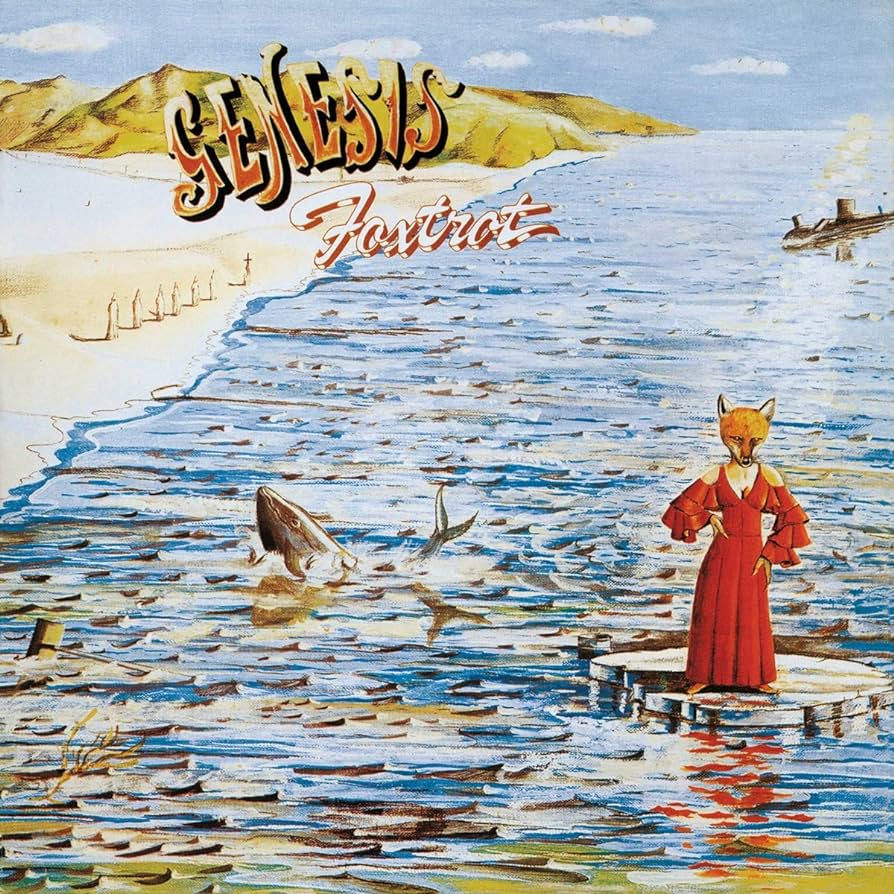 'Around the album Foxtrot, we had a character on the sleeve which was in a red dress and a fox's head', Peter explains. 'So I borrowed a red dress of my wife and we got a fox's head that I could wear and I arrived in Dublin with it.'
During the song 'The Musical Box', Gabriel, who 'was blessed with the gift of being able to hold an audience in the palm of his hand, coupled with the sensibility never to abuse that power'2 appeared onstage at the National Stadium in Dublin (a boxing ring) in the long red dress and the fox head in style of the Foxtrot album cover. The band was surprised, to say the least, for Gabriel had not inaugurated them.
'He came out with the fox's head and woman's dress', Phil Collins remembers. 'And it was: 'What is he…? What the f…?' I've read since in one of the fanzines that he deliberately didn't tell anybody what he was going to do.'
'I may have skirted around the issue with the band', Peter says. 'It wasn't something I was going to discuss thoroughly. I thought it would be yet another argument.'
'We weren't too sure about it', Tony Banks admits. 'It seemed to distract from the music.'
'But nevertheless it made the front pages of Melody Maker and it put a nought on our earnings every gig', Phil adds.
Tony Banks remembers: 'We had difficult music to get across […] You need something more than just music to attract a bigger audience.'3
The costumes became one of Peter's trademarks in Genesis and he shaped the presentation of progressive rock music as well. The idea of a frontman in costume had started with 'Ian Anderson's bizarre stage persona of eccentric tramp-cum-minstrel with unkempt hair and dressed in a long coat' and resulted in the 'theatricality in the performances of Yes, Genesis and Rush in the mid-1970s'4.
Ed Goodgold, Genesis' promoter in the United States, compared Peter Gabriel to a priest and his costumes to his vestments5. In this aspect, Peter has also often been compared to Alice Cooper and David Bowie6. Remembering that in the beginning the band did not intend to play their songs live, but had the idea of other artists recording their songs, Peter's costumes became his way of presenting the songs for the audience. As the young, shy public school boys were not the most natural performers onstage, Peter hid himself behind these masks and became someone different.
With the release of Foxtrot in 1972, Genesis became more than a cult band, charting in Britain and being celebrated by the music press. Peter Gabriel's stage outfits added to their new-found fame. Also, they would become a matter of arguments within the band a little later. But that's another story.
Cover image: Genesis Foxtrot advertorial in Melody Maker, 14 October 1972
Sources
Literature
Banks, Tony; Collins, Phil; Gabriel, Peter; Hackett, Steve; Rutherford, Mike; Dodd, Philip (2007): Genesis. Chapter & verse. New York: Thomas Dunne Books/St. Martin's Griffin.
Bowler, Dave; Dray, Bryan (1992): Genesis. A biography. London: Sidgwick & Jackson.
Hegarty, Paul; Halliwell, Martin (2011): Beyond and before. Progressive rock since the 1960s. New York: Continuum.
Holm-Hudson, Kevin (2008): Genesis and the lamb lies down on Broadway. Aldershot, England, Burlington, VT: Ashgate
Videos
Phil Collins – A Life Less Ordinary (2002).
Hackett 2007: 124 ↩︎
Bowler & Dray 1992: 48 ↩︎
Banks 2007: 124 ↩︎
Hegarty & Halliwell 2011: 51 ↩︎
cf. in Banks et al. 2007: 130 ↩︎
cf. Holm-Hudson, 2008: 30 ↩︎